Did anyone think it would be EASY to find SOCKS for our children? It isn't. Standard colors include white, red, blue and pink. Every once in a great while you find cute patterns but it is rare.
For Babies who aren't walking yet – The Robeez socks are sweet and they have quite a number of designs and colors. Animal prints, flowers, stripes, argyle, holiday themed, etc. They have knee socks which are perfect for babies that kick their socks off all the time.You can find them at www.diapers.com under the clothing and shoes category.
For Toddlers – Nordstroms has a great selection of socks – fuzzy ones, short
ones, tall ones, and most of them are no-skid which, for little ones just starting to walk, is a must have. www.nordstrom.com
And as a secondary option – Mini Boden has a sock box of 7 different colorful sets. www.miniboden.com
Sadly, I've searched long and hard for toddler socks and the fact that it isn't easier comes as a surprise to me. Target had some good ones from designer Paul Frank however they didn't have the no slip options. I wish Robeez made no slip socks because their designs are really cute for Toddlers (still a good option if your child is going to wear socks all the time.)
My final suggestion, if none of these work for you, is the swedish moccasin from Hanna Andersson www.hannaandersson.com . They play the role of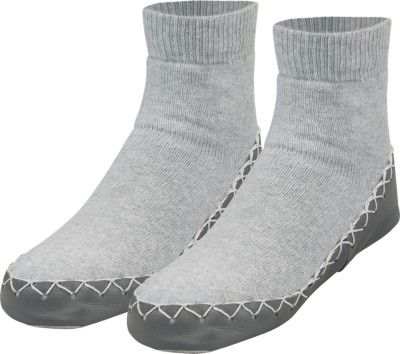 both indoor sock AND shoe in one.
Sorry for the lack of a clear recommendation here but I thought options were in order.